WHY YOU NEED TO CREATE AN AMAZON BABY REGISTRY
Today I'm going to share a few reasons why you NEED to create an Amazon baby registry. You see, when you are pregnant, there is a LOT going on. One of the things that can become very time (and energy) consuming is creating, managing and editing your baby registry. So let's try to keep things simple here. If I had to choose only one place to have a baby registry, it would without a shadow of a doubt be Amazon. See why below.
RELATED: click here to see my 45 baby registry must-haves!
Take a look at the many benefits you get for creating a baby registry at Amazon.com.
:: LARGEST SELECTION OF BABY PRODUCTS::
Amazon has over 270,000 baby items on their site and you can add any of them to your registry in one click! There was not one item that I wanted for our babies that I couldn't find on Amazon. And 99 times out of 100, it was also cheaper on Amazon than anywhere else.
:: MOBILE REGISTRY::
Create your registry from anywhere and add items as you think of them, anytime and anywhere.
:: EASY 90-DAY RETURNS::
If you've ever returned anything on Amazon before, you know how easy the experience is. Well, with registries, they make it even easier – extending their return policy to 90 days.
:: UP TO 15% COMPLETION DISCOUNT ::
This is the single best benefit of creating your registry on Amazon. You get a 10% completion discount (15% if you're a Prime member – sign up for that here) on anything on your registry. Let's read that again – ANYTHING ON YOUR REGISTRY. So, if you even remotely think someone might get an item for you, add it to your registry! If you get it, great! If not, you can buy it yourself for up to 15% off!
:: FREE FAST SHIPPING::
Orders over $49 ship free for everyone. Prime members get free 2-day shipping on most items!
The next set of benefits is for Prime members only.
You can sign up for a 30-day free trial of Amazon Prime here.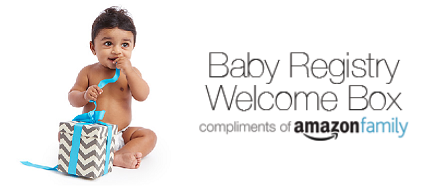 BENEFITS OF AN AMAZON BABY REGISTRY FOR PRIME MEMBERS
:: FREE WELCOME BOX ::
This is the best Prime perk for creating a registry with Amazon. You'll get a welcome box loaded with useful stuff for your baby. Boxes include a value of about $35 with products like formula, bottles, pacifiers, teethers, breast pads, wipes, baby lotion, baby food and much more! This was one of the most fun parts of the whole experience for me!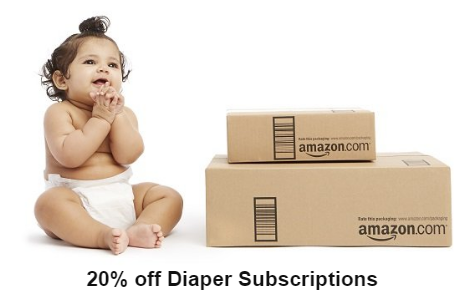 :: 20% OFF DIAPER SUBSCRIPTIONS ::
This could single-handedly pay for the Prime membership! Saving 20% on diapers from brands like Huggies, Pampers, Seventh Generation, Honest and more has been amazing for us! Plus, having them shipped straight to your door so you don't have to lug box after box of diapers home? Priceless.
The next set of benefits is for Prime members only and are rotating limited time offers. Due to the age of this post, each offer may or may not currently be available. You can sign up for a 30-day free trial of Amazon Prime here.
To see if these offers are available. Create your registry and check the "Exclusive Offers" area of your registry a week after creating it.
:: FREE SELECT PARENTING BOOK::

Choose from a nice selection of popular parenting ebooks.
:: 25% OFF MATERNITY PURCHASE::

Choose from a large selection of maternity jeans, nursing tops, bras and more.
:: 25% OFF SELECT PRENATAL VITAMINS::
Save on something you're probably already buying anyway.
:: 25% OFF SELECT BABY APPAREL::

:: $25 CREDIT BACK WITH $50 LUXURY BEAUTY PURCHASE::

Take care of yourself with this nice perk. Choose from brands like Stila, L'Occitane, Essie, St. Tropez, Mustela and more.
Whew! What a list of perks! With all of these awesome things you get for creating an Amazon baby registry, you would be missing out without doing it! Click here to create your baby registry through Amazon and start enjoying the parks today!
---